In Kiev, detained a number of people from St. George ribbons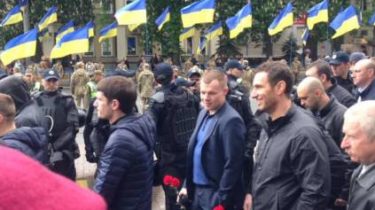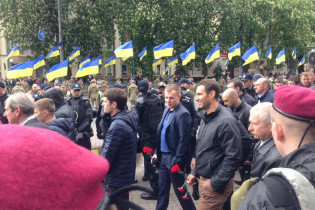 In Kiev, near the Square of Glory was detained two people who tried to deploy a banner with St. George's ribbons, also in police threw a smoke bomb.
This was announced by Deputy Chairman of the National police Andrey Krishchenko, transfers "112 Ukraine".
See also:
"We build muscle and become stronger." Poroshenko assured in the victory of Ukraine in the war
"It was used a smoke grenade. Individuals who are opponents to this March (the"Immortal regiment" – ed.), threw a smoke bomb at about 9 o'clock in the police. The victims yet. The situation is quite under control," he said.
In addition, elderly people seized several of the "St. George ribbon" and spent with them explanatory work.
According to preliminary estimates, about 1.5 thousand people plan to participate in the stock near the Park of Glory.
See also:
"Immortal regiment" portraits of heroes "Game of thrones" and Bandera: Zaporozhye notes May 9
Law enforcement officers in the capital while it used to four thousand and servicemen of national guard and police.
Recall that for the action to the Victory Day in the capital blocked a number of streets. Restriction of movement will operate until 15:00.
Comments
comments