In Kiev the Motherland "dressed" in 14 national costumes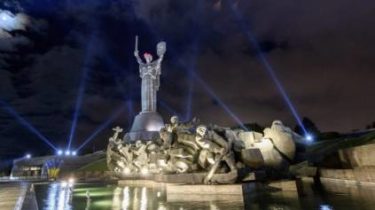 In Kiev on the occasion of the song contest "Eurovision-2017" made a great "dressing up" of the Motherland.
This is stated in the plot of TSN.Ranok.
14 traditional Ukrainian costumes on the eve of broadcast on the monument. The light show lasted for seven minutes, it could be seen from almost all corners of the capital. To show the organizers have selected the best patterns and models of embroidery that would convey the uniqueness and authenticity of the Ukrainian culture in all regions.
"Two years ago, when I moved to Ukraine, the first gift received, it was embroidery. I wear it every year on the day shirts and my kids in school often have to put them on. I don't see anything outdated. It is wonderful that you have such a long tradition, and it will always remain fashionable and relevant," says the organiser Mandy LenB.
The show became the biggest 3D mapinga in Ukraine. It is the direction of audiovisual arts, when 3D projection is sent on a physical object based on its geometry and location.
Disguised in shirts the Motherland has made in the Ukrainian book of records. Because this projection has overtaken the previous St. Sophia Cathedral, six meters in height and was 53 meters.
Comments
comments