In Russia Mchsniki rescued the children who are stuck in an ice puddle in the yard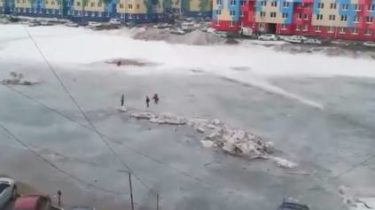 In the Russian Noyabrsk trapped in the glacier was the children who were playing in the yard.
Giant puddle between the two houses was covered with ice, the children went to play on the Playground and stuck there. The depth was small, but the children were afraid to return independently to "coast" on thin ice that cracks. They were left standing on a small island.
The locals called rescuers to remove children from the ice. The corresponding video of the rescue operation was posted on youtube.
In connection with the incident nobody has suffered.
We will remind, in Yakutsk spring water flooded the Playground, and as a result children were forced to play in dirty water. According to the author of the video, the recording was made on April 23 in the yard of one of houses on street Yakut.
Comments
comments