In the river to save the fighter who is a sniper near the Town was shot in the brain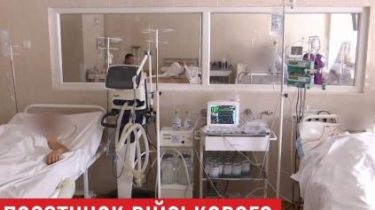 Soldier who almost lost his leg, was taken by helicopter from the ATO zone in the Dnieper. The condition of the wounded extremely difficult, for his life fighting doctors of the regional hospital Mechnikov, stated in the story TSN.19:30.
There over the weekend brought six more seriously wounded from Avdeevka, Krasnogorovka and Pavlopol, two of whom were in a coma. 23-year-old Igor splinters of ammunition riddled lungs, spleen, and arm. Thanks to the efforts of doctors from Kharkiv came to. Ahead of his numerous surgeries.
In serious condition Vladimir, who is still unconscious. 29-year-old soldier near Avdeevka had a very difficult wound to the head – a sniper's bullet pierced the brain. Neurosurgeons operated on the fighter's six o'clock, and the struggle for the life of a warrior is still ongoing. "The bullet entered the left temporal lobe, she was fragmented into a large number of small pieces, most of which remained in the brain, and the largest bullet fragment flew in the left occipital lobe," – said the neurosurgeon Andrey Sirko. "In a very serious condition on a ventilator. Coma. Do not lose hope on saving his life" – summed up the chief doctor Sergei Ryzhenko.
Comments
comments