Ukraine needs to break the deadlock, a Russian turns "Minsk" turned on its head – Klimkin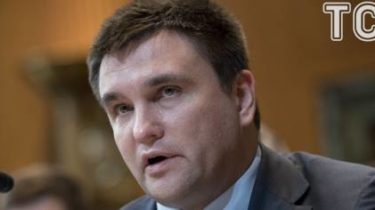 Ukraine needs to develop with international partners effective tactics to put pressure on Russiato get out of the impasse in which Russia gets the Minsk agreement.
This informs the Minister of foreign Affairs of Ukraine Pavlo Klimkin says "Voice of America".
According to the Minister, it is necessary to take strong steps for the release of political prisoners and hostages in Russia.
"We talked about this with Secretary Rex Tillerson in Washington, DC. That is, first the security, and that applies to people, and then you can go further", – said the Minister.
Klimkin also commented on the victory of Emanuele of Macron in the presidential election in France. "So I'm sure that he and his team are very consistent and powerful work in order to put pressure on Russia, which it fulfilled, what needs to run, and Russia is now consciously change tactics, trying to get everything to a standstill for its decisions, and that they are now trying to create a very different logic, speaking about some mystical "the people of Donbass", – said Klimkin.
"This logic is deliberately designed to raise the stakes and to legalize a Russian protectorate, which in fact they are already established in the Donbas. But it is well understood that this is the road to nowhere," he said.
"So now we need to work together to find a difficult tactic, since there are no simple solutions, how to try to put pressure on Russia to get out of this impasse, in which she gets the Minsk agreement", – concluded the foreign Minister.
See also:
Tillerson's visit to Moscow has shown that Russia cannot be trusted — Klimkin
Recall that U.S. Secretary of state Rex Tillerson can act as the advocate of Ukraine in negotiations with Russia, and Washington can join the Normandy format.
This was stated by Minister of foreign Affairs of Ukraine Pavlo Klimkin.
He noticed that Tillerson well-informed about the aggression against Ukraine in Moscow, he also discussed various options to resolve the situation. The Minister added that the US is likely to join Ukraine, Germany and France in talks with Russia, but stressed that is important, not the format of negotiations, and their effectiveness.
Comments
comments