Reporters found the Vice Klitschko fake diploma on higher education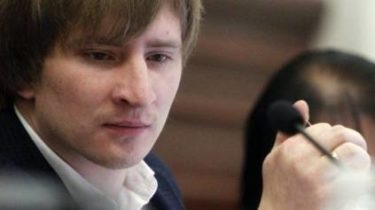 The Deputy of the mayor of Kyiv, head of Kyiv city state administration Volodymyr Bondarenko, probably has a fake diploma on higher education.
This is stated in the investigation of journalists of the program "Schemes".
Bondarenko was a janitor at the Kyiv school, and then became assistant to the Deputy of city Council Vitaly Klitschko, 2013 – assistant Deputy. When Klitschko was elected mayor of the capital, Bondarenko without competition and special checks secured a position in KCSA.
In the autobiography of the head of Kyiv city state administration does not specify the school in which he received the first higher education. It is noted that it is legal and received after school.
See also:
The leaders of the militants Ukrainian fake diplomas to confirm the Russian masters of their profession
But on the day his appointment as chief of staff of the news agencies spread information from his page in the network Facebook, where it was stated that he graduated from the Lviv national University named after Ivan Franko. Now this information on his page no.
University Franco declared to journalists that Vladimir Bondarenko has not graduated or received a diploma from this institution.
Education Vice-Klitschko is already interested and in the National police opened criminal proceedings on the appeal of people's Deputy Yury Levchenko. According to the Deputy, Zmitser Bandarenka filed in the KSCA fake diploma of the Lviv University.
When reporters asked Bondarenko on his diploma, he just ran away from them.
The mayor of Kiev Vitaly Klitschko said that the production of national police knows, but the evidence of Vladimir Bondarenko it seemed convincing: "as far As I know, he was educated in the city of Kiev. I asked him and he said he studied in Kiev and not in Lviv. I took him at his word."
See also:
The London mystery Nasirov: elite apartment, fake diploma and British citizenship
The journalists appealed to the Kyiv national University named after Taras Shevchenko, where Volodymyr Bondarenko received a diploma at the Institute of post-graduate education after receiving the first higher education.
The media received a copy of the bachelor's degree, which Bondarenko supposedly gave Lviv University named after Ivan Franko. In fact, the school claim: Vladimir Bondarenko they have not studied.
Comments
comments