Risk health: the British jumped on the trampoline with thousands of mousetraps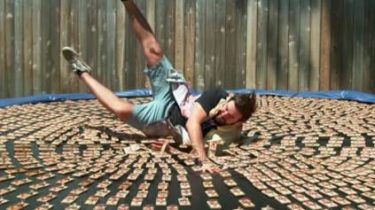 The British Gavin Free and Daniel Rooks decided to risk his health and decided to shoot a new video in slow movie.
The first shot of the second jump on the trampoline with thousands of charged traps.
This writes the jellyfish.
The authors of the project The Slow Mo Guys shoot different phenomena in slow-mo. Usually it's something innocuous, like spray paint drill or bursting balloon with water.
See also:
Makarevich has introduced the atmospheric clip in slow motion
Canadian Amateur photographer has created a series of amazing photos of fireworks on a long exposure. This sight is like that of a blossoming flower buds.
The photographer works in different genres – macro, animals, people, sports. One of the areas of activity – long exposure.
Comments
comments