Verification of the lists to unlock the release of the hostages will discuss in Minsk – Gerashchenko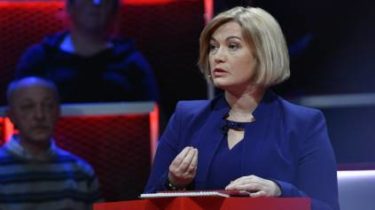 The next meeting in Minsk format in the capital of Belarus will be held on may 15 and one of the main issues is the question of verification of the lists to unlock the process of release of hostages.
This was stated by the representative of Ukraine in the humanitarian sub-group of the Trilateral contact group, first Deputy Chairman of the Verkhovna Rada Iryna Gerashchenko, writes UKRINFORM.
According to her, the hostages on the territory of Donetsk and Lugansk regions remains 128 citizens of Ukraine. But, the other side submits a list of more than 600 people demanding to release them to unlock the process of liberation of the hostages. Among these persons there are almost 300 of those who have committed crimes against the state of Ukraine, but they do not want to return to the occupied territories.
Now, according to Gerashchenko, it was agreed that waivers must attest to the representatives of the OSCE and these days it completes the verification procedure.
First Vice-speaker hopes that by may 15 the verification procedure to be completed.
We will remind that earlier the Ukrainian side for the release of the hostages offered as a compromise to bring to the certification process signatures office Upovnovazhenij BP on human rights, the procedure will take place under the OSCE monitoring mission which directly involved to the Minsk process.
This was announced by first Vice-speaker of the Verkhovna Rada, Ukraine's representative to the Humanities subgroup of the Trilateral contact group Irina Gerashchenko.
Comments
comments