The headquarters of the ATO responded to the interview video in "LNR" fighters ATO: the young man could voluntarily surrender to the militants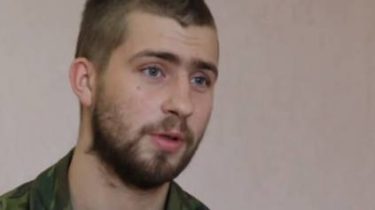 Mat soldier could voluntarily surrender the militants in the East of Ukraine, now he has lost the title of Sergeant, and the case studies the military Prosecutor's office.
This is reported in the press center of staff ATO in Facebook.
"May 11 on the Internet was posted the video of the interrogation of the uncertain persons APU soldier Sergeant military service under the contract Laplaca T. Y." the message reads.
See also:
Treason and desertion in the Crimea: the ex-the employee of SBU will be judged for siding with Russia
The staff pointed out that Gapac voluntarily left a place of service in late March of this year. This is evidenced by preliminary data. "On the given fact conducted an internal investigation and sent a message to the military Prosecutor and in the Military service of law and order," — said the headquarters.
The staff also added that the incident, which occurred at the end of March, had carefully studied. Therefore, with regard to all the circumstances of the soldier of Hapaka deprived a military rank "Sergeant".
"After a careful study of the incident, which occurred at the end of March, and taking into account all the circumstances of the soldier was stripped of his military rank "Sergeant" according to the Disciplinary Charter of Armed forces of Ukraine", — explained in the headquarters.
Meanwhile, the investigation file was transferred to the military Prosecutor. So, the decision will be taken according to article 430 of the criminal code – "Voluntary surrender".
We will add that in the video for may 11, which was distributed by the militants "LC", Geplac told that he hails from the city of Boryslav in Lviv region. The young man of 1994 year of birth.
Also in the video Geplac stated that he had surrendered because of "conditions of service in the Ukrainian army". In particular, he stated "the lack of military equipment and personnel, a constant drinking of alcoholic beverages by personnel, and that soldiers are trying by any means to obtain a dismissal or release".
We will remind, on may 10, the so-called delegation of the self-proclaimed "LNR" came to Kiev-controlled territory to begin the process of verification (verification) of prisoners.
Comments
comments