"Violation of the ecology and aesthetics of the image". Aksenov was indignant because the blue and yellow boxes in the Crimea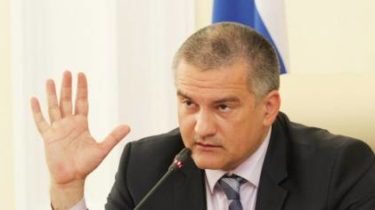 The so-called head of the occupied Crimea Sergey Aksenov during a visit on may 12 in Kerch village Geroevka protested, seeing trash cans, painted in colors of national flag of Ukraine.
About it reports "Crimea. Realities".
Therefore, Aksenov threatened to fine local officials for yellow-blue "anti-state" boxes.
See also:
With Riot police and Aksenov: Pro-Kremlin puppets staged a celebration of the Crimean Tatar on the Peninsula
In the video, released by the local newspaper kerch.fm, Feldman outraged: "I Saw the boxes of anti-state color? It should be 5 million roubles (2.3 million UAH – ed.) fine. For violation of the ecology and aesthetics of the image".
Note that in early April the speaker of the Kremlin-controlled Parliament of the Crimea Vladimir Konstantinov at the opening of a fast food "Burger World" in Simferopol demanded to remove the "remnants of Ukraine", referring to posters that were kept closed after the annexation of the McDonald's restaurant.
We will remind, the state office of public Prosecutor has asked court permission to hold special pre-trial investigation against the so-called high-ranking officials of the Crimea and Sevastopol, among them former"Prosecutor" Natalia Poklonskaya and illegitimately occupied the head of the Peninsula Sergey Aksenov.
Comments
comments