Azarov disproved the financing of protest actions in Ukraine, calling information, the SBU "false"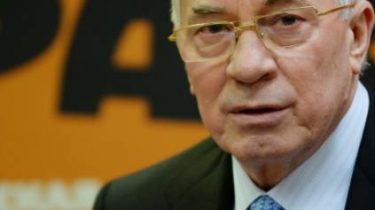 Accusations of the SBU the sponsorship of ex-Prime Minister of Ukraine Mykola Azarov separatist rally in Rivne is a lie.
This is the politician-the fugitive wrote on his page in Facebook.
"Today, "the Ukrainian truth" has published another lie of the SBU, which sounded Vasily Gritsak "paid For actions that are carried out in Ukraine, are the Russians and Mykola Azarov", – said the former Prime Minister.
In addition, politician, fugitive recalled how the former head of the SBU Valentin Nalyvaychenko 2 years ago published information that allegedly Mykola Azarov pays the protests in Ukraine", after which he was prosecuted.
"I denied this lie and sued for libel in the SBU. Criminal case, of course, nobody was excited, because there are no facts which could confirm the lies, and the court half a year demanded from the security service of presenting concrete evidence, but did not waiting, closed the consideration under the ridiculous pretext that this fact was not publicly announced in the media. Well, they already now in Ukraine the courts," – said Azarov.
The former Prime Minister also advised Hrytsak, "think about yourself and stop lying about me," noting that the head of the SBU "nothing pays the money to his agents, which he slips another "lime".
"Poroshenko, Groisman and such as hrycak, brought the nation to such a state that soon will have to pay people to rend and tore them to pieces, if formed for this purpose, the relevant situation", – summed Azarov.
We will remind, earlier the head of SBU Vasily Gritsak during a briefing in Kiev, said that Azarov has continued to sponsor separatist rally for the creation of "Rivne Republic". According to him, the former Prime Minister gave the organizers 4 thousand dollars.
Comments
comments