Poroshenko advised the attorney General to report to Parliament on its work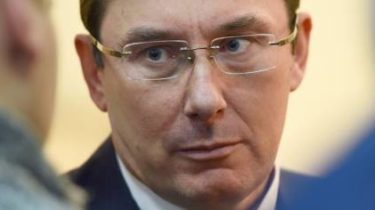 The President of Ukraine Petro Poroshenko expects from Prosecutor General Yury Lutsenko public report in Parliament at the end of the year.
The head of state said at a press conference on the occasion of Europe Day, and of granting Ukraine a visa-free regime with the EU.
"A year is enough time when you need to report on the results. First, it seems to me that he was going, if not, I think he can hear us, I would advise you to do a public report in Parliament, the attorney-General. I think that it will be useful, and I think that there is nothing to report", – said Poroshenko.
See also:
The act of his son, the worsening in ATO and ass at the Eurovision song contest: what Poroshenko said at a press conference
In addition, he noted that if you measure the work of genprokurora in the number of criminal cases and the sentences passed in court, about this there is a good statistics. According to Poroshenko, this also applies to cases concerning the Maidan, and cases against corrupt officials. The President also mentioned the main thing – the ex-President Viktor Yanukovych.
"It is in any case does not mean that we encourage or accelerate, but wait for 3, 5, 7, 10 years, neither I, as the Ukrainian President nor Ukrainian people or the Ukrainian society is not going to. And the fact that the court of Ukraine began consideration of the case against Yanukovych for treason – this is the first case in 25 years of existence of the independent Ukrainian state. And I think this is a great achievement of the General Prosecutor's office", – said Poroshenko.
See also:
Press conference Poroshenko. Video
He also mentioned the confiscation and the involvement in the state budget of 40 billion hryvnia.
"The total amount mobilized this year General Prosecutor's office under the leadership of Lutsenko exceed 50 billion I Think it makes a very positive impression," – summed Poroshenko.
We will remind, on may 3 in state budget received the last tranche of funds, confiscated in the accounts of the "family" of Yanukovych. Last week it was reported nearly 1.5 billion USD (40 billion).
Of these confiscated funds directly to the accounts of the State Treasury received $ 1.1 billion. Another 199 million dollars confiscated securities. Therefore, this amount will reduce the internal debt of Ukraine. Confiscated funds will be directed to the needs of the army, social programs, and part will be added to the international reserves of the NBU, which will increase to 18.4 billion dollars.
Comments
comments