The Minsk agreements provide an opportunity to bring Putin to justice – Poroshenko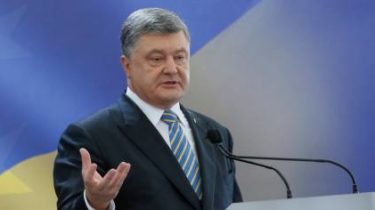 Russian President Vladimir Putin is held accountable for its aggression against Ukraine, as its signature under the Minsk agreements.
This at a press conference on Sunday said the President of Ukraine Petro Poroshenko.
"We cannot achieve peace only because Putin does not want to implement the Minsk agreements. They allow you to go to court and to bring the perpetrators to court," he said.
Poroshenko believes that due to the fact that Putin's signature costs under these agreements, the situation in the Donbas is different from what happened in Ossetia and Transnistria.
See also:
Ukraine needs to break the deadlock, a Russian turns "Minsk" turned on its head – Klimkin
"You know what our situation is different from Ossetia, Transnistria, on Syria? Under the Minsk agreement is signed by Putin. This gives you the opportunity to bring Russia and Putin to justice," – said Poroshenko.
Recall, the international court of justice in the Hague visnaw among other things, Russia is a party to the Minsk process. This decision is the most important and binding.
Comments
comments