Poroshenko's first official visit to Malta. What you should know about the agreement of the presidents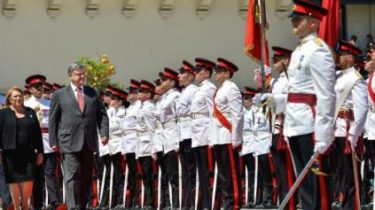 Today, 16 may, the first in the history of bilateral relations visit of the President of Ukraine to the Republic of Malta, which currently holds the EU presidency.
According to the official website of the head of state Petro Poroshenko and his wife Marina met the President of Malta Marie-Louise Coleiro-prek and her husband.
After the festivities, during a joint press conference, the President noted the essential role of Malta in defending the independence, sovereignty and territorial integrity of Ukraine and said that Malta was in favour of extending sanctions against Russia until full compliance with the Minsk agreements, reports UNIAN. "I want to thank you, Madam President, the government, the Minister for the very strong and reliable position in support of our sovereignty, territorial integrity and independence. We feel your shoulder, as a friend and strategic partner," he said. "We appreciate your position that sanctions should continue until full implementation of the Minsk agreements" – said Poroshenko.
See also:
Europe, meet. What you need to obtain biometric passports
In turn, the President of Malta reported: "Between our countries there are huge opportunities for enterprise development in various fields, in particular in the development of infrastructure, Maritime transport." Petro Poroshenko thanked Ms. Marie-Louise for the warm welcome and support and invited her to Ukraine at any convenient time for her.
Poroshenko said that the Maltese presidency of the EU has been extremely effective for Ukraine, because during this period the European Parliament has supported a visa-free regime with the EU for Ukrainian citizens. Poroshenko stressed that due to the visa-free regime and more Ukrainians will be able to come to Malta to learn English and called the decision "not just the ability to freely cross borders, but also the historical return of Ukraine to Europe".
The President also added that Malta could become a hub for Ukrainian farmers for delivery to North Africa.
As reports UKRINFORM, the President said that " Malta can be a hub for our aviation industry in order to create a special centre for Antonov aircraft.
In addition, according to Interfax-Ukraine, was signed agreement on cooperation in the areas of diplomacy, sports and education.
Comments
comments