Reporters found undeclared car Korczak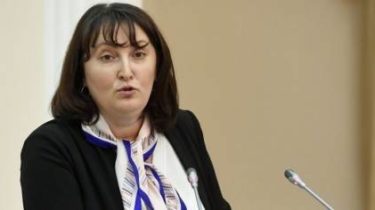 The head of the National Agency for prevention of corruption Natalia Korchak has not made his Declaration vehicle acquired for their own money.
This was reported in the investigation of the program "Our money with Denys Bigus".
See also:
"For work". Korczak in Parliament admitted that he had written a prize in 200 thousand hryvnia
The official, who has no ownership of the private car at the end of 2016, bought a Parking space in one new building with the Kiev. Her mother-in-law, Hope timer-Bulatova, which do not have documents on a vehicle, purchased a brand new Skoda Octavia A7. She Korczak and her husband Yuri timer-Bulatov noticed that a new car bought "together". If this Declaration in no way indicated the fact of possession of the vehicle. Despite the fact that the car was registered in the name of Hope timer-Bulatov, as discovered by journalists, it directly uses the husband of the instructor for the NACP.
According to Andrei Savin, the lawyer of the Center of counteraction of corruption, "even if this vehicle was purchased with the money of the subject of the Declaration, or the title issued to a third party, of course, it must be declared and listed in the Declaration. If, again, the cost exceeds 250 times the subsistence minimum for able-bodied persons, in the case of failure to declare this vehicle can be criminal liability."
The Declaration should be provided a vehicle even by the fact of its constant use. "If as at 31.12.2016 year the subject of the Declaration used the vehicle, it is subject to Declaration mandatory", – says the lawyer. Natalia Korchak regularly uses the car brand Volkswagen Bora, who is leading inspector of Department of resource maintenance of admindepartments NACP Andrew Nekrutenko. Thus, it serves as the driver Korczak, whose post is not provided full-time instruction. According to the authors of the investigation, since this car is privately owned, the Chairwoman of the NACP also had to declare.
Earlier it was reported that the Prime Minister of Ukraine Volodymyr Groysman urged Natalia Korchak to resign.
Comments
comments