The blow fell on the platform, which run subway passengers. Details of the accident on the left Bank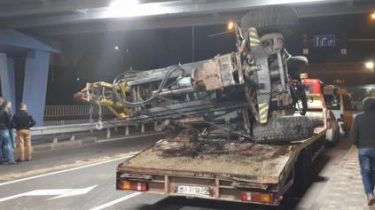 On Tuesday, may 16, learned the details of the accident at the metro station, which occurred the day before.
The incident occurred at the newly refurbished the Eurovision interchange near the station of the Moscow metro, reports TSN.Ranok.
In support of the bridge, which runs metro, hit the tractor that was being transported by the tow truck. The driver miscalculated the height and the tractor is initially hooked new road signs, then rose on its hind legs and stuck in that position between the tow truck and the bridge.
According to TSN reporter Inna Bondar, the main blow fell on the platform that we walk on passengers. However, none of the men was injured – metro trains now run smoothly.
See also:
Police chase among Kiev: the girl chased the drugs
The next morning about the night's incident reminds us of the only corrupt a pointer and a considerable dent on the bridge.
See also:
Police chase among Kiev: the girl chased the drugs
By the way, from the oversized Levoberejna suffering is not the first time. There was a case when the bridge boom drove the excavator.
We will remind, in Kiev on 15 may, the car Lexus rammed a tractor on the street Naberezhno-Khreschatytska street and 60 meters of rode in the van. The driver of the jeep – Long Alexey Anatolyevich – became ill and was taken to the hospital. Activists found him a Declaration in the search engine and found that driving the car was like employee of the National anticorruption Bureau of Ukraine.
Comments
comments