Almost half meter cat Omar may be the longest among his peers in the world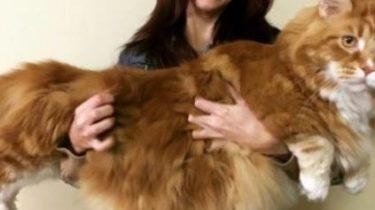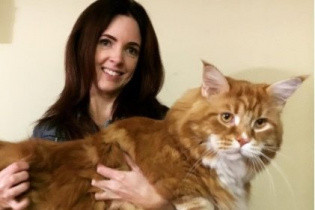 Omar the cat of the breed Maine Coon, who lives in Australia, could become the longest domestic cat in the world, since its length is 120 cm, the BBC reports. Now the record is a cat of the same breed from West Yorkshire, its length is 118 cm
The big cat weighs 14 kg and is 1.2 meters in length.
Now Omar for three years. The owner Steve Hurst says that in 2013 he was a kitten normal size.
After Omar began to gain popularity in the Internet, Guinness World Records asked stephie Hurst send them the measurements of the cat.
Omar lives in Melbourne, Australia with his owner, which two weeks ago created favorite own page in Instagram, where he presents photos, which helped the cat to gain such popularity. One of his photos shared already more than 270 thousand times.
We will remind that in March in Kiev held a contest among cats of 30 breeds. In General, the title of the most beautiful competed for two hundred animals. The most popular turned out to be Maine coons and blue-eyed representatives of the Burmese breed.
Comments
comments