Industrial enterprises continue to turn off natural gas. Who declared war?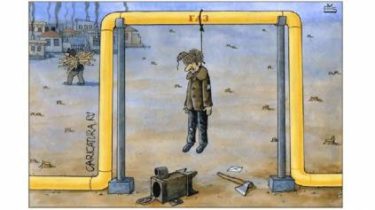 True
Disconnection of natural gas in 2017 bothers many owners and Directors of Ukrainian industrial enterprises. Panic 2014 is repeated, not only through the risk to remain without gas supply as the aggressor, and through the actions of the gas companies in the country.
In search of alternative fuels
Most businesses refused to natural gas and selected other alternative fuels. Natural gas is indispensable for industrial furnaces, dryers and boilers of large thermal power. Gas needed where technologically impossible or economically impractical to install boilers on biomass. The alternative is fuel oil, diesel fuel or liquefied gas propane-butane. To use expensive diesel is not economically justified, and low-quality oil is very problematic to operate. Why most businesses are switching to liquefied petroleum gas propane-butane.
Liquefied propane-butane operating characteristics similar to natural gas and solves the problem of a large and stable heat output. The reasons that push owners of industrial enterprises to abandon natural gas and switch to a standalone liquefied natural gas:

Learn to count the monthly fee for gas for the company
For example, the company installed the most common meter G650 (burner with thermal power from 5 MW to 8 MW). Its maximum flow is 1000 cubic meters per hour, or about 720 000 cubic metres per month (estimated NKREKU). The tariffs for distribution of gas for industrial consumers of the company "kievoblgaz" is 43,28 UAH. (including VAT) per 1,000 cubic meters. m/h, Respectively fee for consumers with a meter G650 – 31 162 UAH. in a month, or 373 944 UAH with VAT per year. Of course, such bags is not justified for the agricultural enterprises with seasonal consumption of natural gas. For example, dryers operate from 1 to 3 months of the year.
Why the monthly fee for gas will not cancel?
The Association of the gas market, warns in an open letter about the possible occurrence of collapse associated with the calculations for natural gas and services in its transportation and distribution, which compromises the functioning of the industry. Why does the Association of the gas market insists on rate and service pipelines?
First, it is a requirement of the EU is to lead the gas market in line with European legislation.
Second, urgently needed funding for the emergency reconstruction of gas distribution pipelines and equipment.
Third is a threat to the safe operation of the emergency gas service. The absence rate jeopardizes the payment of wages to thousands of workers 53 and leads to the forced termination of gas supplies to Ukrainian consumers.
Emergency gas propane-butane in Ukraine – the far-fetched fear or a justified need?
A detailed description of the reasons for the disconnection of natural gas, visit the website of the company Ukravtogaz in the news section.
Comments
comments