Jarosz first comments on the shooting of its guards on the taxi driver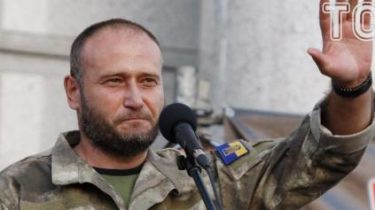 MP Dmitry Yarosh commented on the incident with the security guard who was shot in both legs to the taxi driver in the city of monay in Dnipropetrovsk region.
The MP confirmed that the matter involved really his bodyguard and sister fighting, but stressed that he must be punished.
"Participation in the war – not an indulgence, which frees one from all sins. Specific instructions on how to behave, marking his birthday, he had violated them. That will incur the deserved punishment", – he wrote on his page in the social Network.
Yarosh has promised not to put pressure on the investigation and trial, and from law enforcement requires "human relations" to all without exception of citizens.
He asked the people to treat with understanding to the situation, because fighters have very acute identification "friend or foe" and the concept of "fair-fair".
"The boys kept for years, and then in one moment are broken and the consequences are bad. We are not looking for pity, just asking for understanding," he added.
According to Yarosh, the Ukrainian society is the lack of "wool" and "Colorado" and yet others defend the Homeland and the rest are in the rear, "hating Ukraine and soldiers."
"This was particularly evident during the events in the river may 9, and at the household level in Kamenskoye. One conclusion – any collaboration with the Russian aggressor should be punished. Preferably the state law enforcement agencies. When these organs are not working – citizens. It is our national and constitutional duty," he added.
"It is significant that the information hysteria which developed around the above conflict are in front of the Kremlin's media, anti-government gangs, "the opposition bloc" and their motley fans. That's good, because again, the enemies of Ukraine manifest itself. Advised the guys from the security service to track reviews online. Our analysts saw a lot of interesting nuances," he added.
We will remind, earlier in Kamenskoye in the Dnipropetrovsk region in the shooting was injured 52-year-old taxi driver. The man almost died from blood loss after he was shot in both legs. It all started with the fact that the driver Anton Utkin picked up the company of men, in his words, drunk. Between them there was a conflict over the language of communication. One of the participants in the quarrel have discovered the identity of the guard Dmitry Yarosh.
Comments
comments