Poltorak announced important decisions for the return of occupied Crimea and Donbas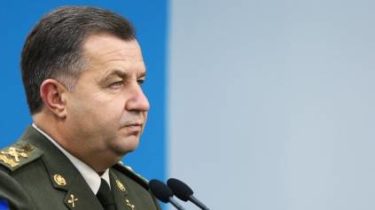 The Minister of defence of Ukraine Stepan Poltorak said that Kyiv is not going to militarily regain control over certain areas of Donetsk and Lugansk regions (ORDA).
At the same time, Poltorak announced the government's decision and the President to return beyond the control of the regions and annexed Crimea. This is stated in an interview with Deutsche Welle Poltorak, reports "Interfax-Ukraine".
See also:
Poroshenko boasted sparkling conversations with trump and told about the United States in Normandy format
"We do not consider the question of solving the problem of the seizure of the territory of Donetsk and Lugansk by force. But every citizen of Ukraine (…) will defend every inch of their land, if Russia takes the decision to open aggression," — said Poltorak, in an interview on may 16 during a visit to Berlin.
He noted that the violation of the ceasefire and the Minsk agreements — on the conscience of Russia, including the supply of military equipment to the separatists.
"We are convinced that Donetsk and Luhansk — the territory of Ukraine", — said the Minister and announced a number of important decisions of the government and the President to return beyond the control of the regions and annexed Crimea under the jurisdiction of Ukraine. However, note that concrete steps the Minister of defence was not called.
Recall President of Ukraine Petro Poroshenko said that Paris and Berlin were given to understand that the functioning of the Normandy format of negotiations on settlement of the situation in the Donbass, remains in force.
Comments
comments