Igor Nikonov on the project "fine town": "We're not building square footage, and friendly environment in which to live"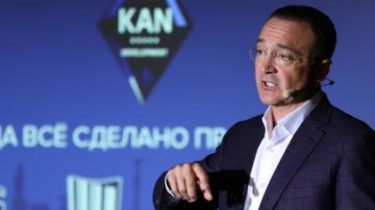 Company news
This became known during the presentation of the new project of the company KAN Development – "fine town" on may 17 at the IQ Business Center. The residential quarter will be located on Nivki, 8 minutes from the nearest metro station.
"Our company builds square meters and heartless carton – and friendly environment in which to live is our fundamental principle. Therefore, for example, "fine town" we want to create what can be called "Kiev dreams." We combined in a single project all you need for a comfortable life. In our complex you will feel the positive in everything – starting with the title, ending neighbourly gatherings over a Cup of tea in a cafe on the ground floor," explains the philosophy of the "fine town" Igor Nikonov, President Emeritus of the group of companies KAN Development.
In addition, of the 39 hectares of the future quarter 12 hectares will be allocated for improvement: planted 4 thousand bushes, 1,000 trees, put benches 420, 7 fitness designs, 24 children and 17 playgrounds, 6 objects, 3 mile boardwalk with bike path.
Developing the concept, the cornerstone in creating the living space was a focus on good-neighbourliness, recreation areas, open blocks, not fundamentally similar to the notorious Kiev "sleeping areas".
"When I hear the phrase "residential district", I have already the pressure rises! These concrete boxes, piled on each other, is designed, as the name implies – only for sleeping, but not for a normal life – depressing effect on people. We, in turn, strive to create a positive space for living, living quarter," said Igor Nikonov.
Besides safety and comfort the emphasis has also been placed on environmental friendliness and energy efficiency. The latter especially bothers Ukrainians in connection with rising utility tariffs. The inhabitants of the quarter "fine town" will offer home, equipped with water heaters, individual heat meters, energy saving lighting, and also systems of collection of waste by means of underground containers, the complex also provides a separate boiler house.
The complex will have its own infrastructure with shops, cafes, supermarket, fitness center, playgrounds, recreation areas for families, youth and the elderly. The project assumes the improvement of recreational areas and Cycling paths with length of 3 km. for the First time as part of the residential complex will create a dedicated area of the picnic. And leisure of the inhabitants of the "fine town" on a regular basis will be dealt with by animators.
According to Igor Nikonov, the residential quarter "fine town" will be the project of a new people-friendly format, unique in the capital yet.
Comments
comments