In the Internet appeared the video of the fight in the city Council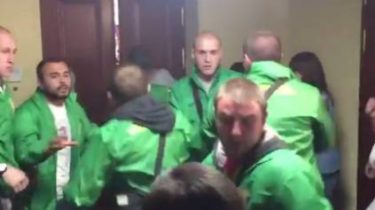 In the Cabinet the group of persons tried to enter the session hall and started a brawl with the local workers.
Video posted on YouTube.
The conflict has injured two police officers, three others – caused damage to personal property.
See also:
MP. in the Parliament struck blogger
The police station was delivered to seven participants in the collision. I worked at a place is investigative-task force, which opened two criminal proceedings on the fact of incident.
Recall, the rally and the crush near the Ministry of internal Affairs of Ukraine gave the representatives of the movement of Ukrainian nationalists. The walls of the office they came with a demand to explain why may 9, the police broke the door of their office and detained two dozen activists. Then the cops gave the nationalists to enter the campaign, and locked in the room, the activists threw flares, glass bottles and vegetables in participants of the March of so-called "immortal regiment".
Comments
comments