"What problems?": Savchenko commented on the repeal part of its law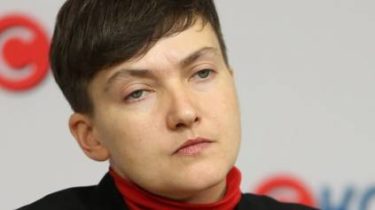 People's Deputy of Ukraine Hope Savchenko believes that nothing terrible has happened, now to find a balance between the old and current system.
She said this in comments to InfoResist.
"Everything is fine. What's the problem? When the Committee made the decision and amendments to the law, I was present and I said that with such rules it is possible to agree, because I really need to give investigators time to investigate, a reasonable time — a year," — said Savchenko.
See also:
Savchenko said that the authorities in Ukraine "- Ukrainian blood"
In addition, she added that for her it was not a surprise.
"This was expected, because the need to reform the entire law enforcement system and not just selectively put one law and then blame on him all sins. Therefore this law is now teetering between the system that is in place and which should go. But the work never ends," added the MP.
Recall, the Verkhovna Rada on Thursday, may 18, reviewed the amendments to the "law of Savchenko". Held a roll-call vote on the consideration under the abbreviated procedure of the draft Law on amendments to the criminal code of Ukraine (concerning the principle of addition of punishments and the enrollment period of the previous conclusion) No. 5534.
For a decision voted by 174 deputies, against – 9, abstentions – 41 not voting – 123. The entire Parliament was 347 deputies.
Note that this is not the first vote on the amendments to the law. Earlier, MPs refused to adopt the draft law No. 5259 on amendments to article 72 of the Criminal code of Ukraine concerning improvement of the procedure for admission of pre-trial detention period, which is known as "the law Savchenko".
Recall, a lawyer-criminologist Anna Malyar said that the so-called "law Savchenko" was adopted by individuals and especially by "the elite bandits" and VIP criminals. However, she stressed that the new document, the legislator recognizes that the conditions of detention nevinovate faces more stringent than those which the court recognized as guilty.
"Savchenko's law" will be the founder of the famous construction Scam "Elita-center" Alexander Volkonsky shahs and controversial doctor-crook Andriy Slyusarchuk, known as "doctor PI".
Comments
comments