Independence square came the Crimean Tatars and the Ukrainian patriots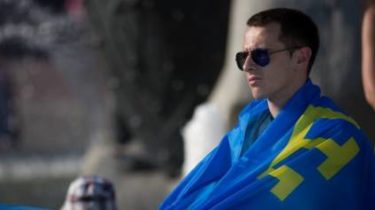 On Independence square in the evening gathered several hundred peopleto honor the victims of deportation of the Crimean Tatar people in the twentieth century and to support the current prisoners of the Kremlin. In the center of Kiev came the Crimean Tatars and Ukrainians are concerned, according to a story TSN.19:30.
People came with portraits of political prisoners and calling for authorities not to negotiate with Putin, until he releases the Crimea. Common prayer in memory of the victims read out by Muslim spiritual leaders. "Somehow, at least for moral support. Anyway, I hope pray this is finally over, and that, as before, were going to their native region", – explained the audience.
Some people refused to communicate with journalists, because we explained that we wanted to return home but are afraid of harassment by local occupation authorities.
Comments
comments