Interpol cancelled the international search Arbuzov – lawyer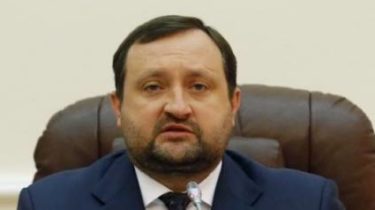 Interpol was removed from the international wanted list of former interim Prime Minister, former head of the National Bank of Ukraine Sergey Arbuzov.
This was stated by the lawyer of the suspect in the misappropriation and embezzlement of budgetary funds in especially large sizes Sergei Kovalev, writes "Interfax-Ukraine".
"Interpol cancelled the international search Arbuzov. Thus, Interpol has renewed its right to freedom of movement", – he stressed.
According to Kovalev, this was preceded by the decision of the Commission for the control of Interpol files, which considered the arguments of the Prosecutor General and the protection of Arbuzov. At the same time to call them he refused.
Also the lawyer of the former head of the NBU commented on the nomination of the GPU charges to his client.
"Not wanting to accept defeat, the Prosecutor General's office declared suspicion our client in "Ukrtelecom". The official document has not yet been received, when receive, then contact the law enforcement authorities to bring the perpetrators to justice," said Kovalev, explaining that with this suspicion, the Prosecutor's office is trying again to achieve ads Arbuzov on the wanted list.
The "case "Ukrtelecom" three years before our client there did not appear", – he added, noting that such actions of the state nature protection establishment "have the crime of unlawful bringing to criminal liability obviously innocent person."
Separately, the defender ex-the head of NBU assured that Arbuzov is planning to return to Ukraine.
"Watermelons can move freely around the world, except for Ukraine, where against it the criminal proceedings. As soon as it is closed, our client will return to Ukraine", – he concluded.
We will remind, the PGO reported Arbuzov suspicion in assignment and waste of budgetary funds in the amount of 220 million. Pre-trial investigation in criminal proceedings occurs in cases of default by the buyer of shares of "Ukrtelecom" company "ESU" of the conditions of privatization on the creation of a dedicated telecommunication network special purpose (TMCH), the illegal financing of creation TMCH at the expense of public funds and the privatization of 92% of the state package of shares of JSC "Ukrtelecom" at the underestimated cost.
Serhiy Arbuzov accused of embezzling public funds amounting to about 220 million hryvnia. February 15, 2016, the General Prosecutor's office of Ukraine started the procedure of special pre-judicial investigation concerning the former official.
Comments
comments