Prosecutors began to read the indictment Yanukovych without his virtual presence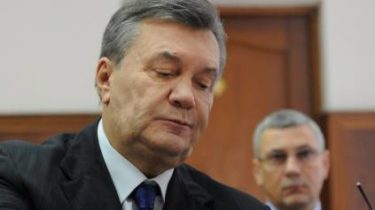 Obolon court of Kyiv continued its consideration of the case of ex-President Viktor Yanukovych, says TSN.12:00.
Yanukovych was neither on the video nor on the conference call. The court explained that on may 5 the former President and his lawyers suggested three ways to participate in the virtual meeting, but the protection of Yanukovych did not agree.
"The court made the decision to hold a video conference and this decision must be translated by applying the Ukrainian judicial authorities to the relevant authorities of the Russian Federation. Today the defense got the answer of the Rostov court's readiness to host the conference in the prescribed manner", – explained Yanukovych's lawyers that their client is not involved today in the meeting.
The prosecution says that now is in absentia proceedings in the manner prescribed by law, so the presence of the defendant is illogical and unnecessary.
"He is wanted and, consequently, must be apprehended and brought to court. However, the court turned to the European Convention and European practices, which say, if there is little opportunity for the accused to participate in the meetings, then you must provide it," – commented the Prosecutor.
The petition was rejected by the lawyers and prosecutors began to read out the guilty verdict Yanukovych. Obolon court of Kyiv is now must either accept the indictment and take the case, or to return the indictment back to the Prosecutor.
We will remind, on may 4 held the first hearing in the case against Viktor Yanukovych of treason. The defense asked the court to postpone the preparatory meeting, before the decision of the Appeal court to change jurisdiction of a case, but the request was denied. The court also allowed to organize a videoconference for the participation of Yanukovych at the next meeting. Protection deprived the title of President of Ukraine Viktor Yanukovych stated that his interrogation through a video conference should be organized under the procedure of international legal assistance. This "will prevent the leveling of accusation testimony of Viktor Yanukovych".
By TSN correspondent Dmitry Furdak
Comments
comments