MP. in the Parliament struck blogger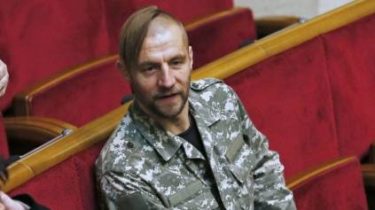 Verkhovna Rada Deputy from "popular front" Michael Gavrilyuk at the Parliament building struck blogger Basil Crutchy. He said this on his page in social network Facebook.
He posted a video of the incident. Crutches asked him to give an interview and asked why he had decided not to speak to reporters.
"Basil, I am with you do not communicate you called me a clown and all," – said the Deputy.
The blogger said in response: "As you can make the decision not to give interviews, who are you?".
See also:
Parasyuk explained why staged a fight in Parliament
He continued to follow the Deputy, although he was asked to leave it. Gavrilyuk then turned and allegedly slapped Crutchy – the very moment on the record is not visible, only heard the sounds of fighting and swearing.
Attention, the video contains profanity.
The blogger said that the incident resulted in his torn shirt and broken phone.
Earlier, in Parliament there was a fight between deputies from the faction of the BPP Ivan Melnichuk, and Sergey Leshchenko. The clash took place due to the post Leshchenko in the social Network
Comments
comments