On the outskirts of Dokuchaevsk militants threw a smoke grenade in the car of the OSCE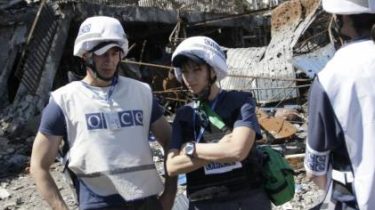 In the Donbas occupied on the outskirts of Dokuchayevsk militants threw a smoke generation device in the car of the OSCE observers.
About it reported in a press-service of the organization.
"On 17 may the SMM patrol consisting of five employees at two armored vehicles were on the North-Eastern outskirts of "DPR" – controlled Dokuchaevsk (30 km South-West of Donetsk), moving in a westerly direction, behind the green military type truck (KAMAZ-4350) with license plates DK-1823″, – the report says.
According to the patrol Mission in the rear cargo compartment of the truck were six men in the form of a military type.
"At 13:47, when the first car of the SMM patrol was at a distance of 50 meters from the truck, the observers saw one of the men threw the device of unknown type (probably a smoke grenade), which fell about 10 meters in front of the first car SMM", – stated in the OSCE, adding that the device glowed, forming a white smoke.
It is also reported that the SMM patrol passed him, overtook the truck and went to the nearest known safe place observers in Dokuchayevsk.
"At 14:20 the same SMM patrol, returning to base, stopped at the scene and saw beside him the burn marks on the asphalt and the grass, but the remnants of a single device could not be found", – summed up in the Mission, noting that the patrol eventually returned safely to their base in Donetsk.
Separately noted that none of the SMM vehicles were not damaged.
We will remind, on may 5 in the SMM, the OSCE stated about the sexual harassment by armed men in ARDLA against a member of the patrol mission are female. The woman was subjected to sexual harassment by men armed with assault rifles (AK-47), who threatened that will not allow the patrol Mission to move eastward from Petrovsky in Razdol'noye, until his demands are not met. The patrol left the area by another route, and JCCC informed about what happened.
Head of SMM OSCE in Ukraine Ertugrul Apakan, condemned sexual harassment to a member of the mission and appealed to the militants with the requirement to deal with this case.
After that, the militants "DNR" repeatedly refused meetings with OSCE observers, but captured by "LPR" in Luhansk, a meeting was held between mission staff and the senior ranking member of the group. However, he was not informed of any measures on elimination of violations recorded by the observers.
Comments
comments