Deidei commented on the performance on the lifting of his immunity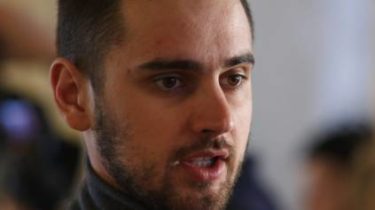 MP from "popular front" Eugene Dade, accused of illicit enrichment, assured that he is not worried because of the possible deprivation of parliamentary immunity.
He declared it on air of TV channel "112 Ukraine".
"I am not afraid. I would be scared if something was stolen. I have lived 26 years without parliamentary immunity and is now ready to live without her. In these places, where I am in ATU, parliamentary immunity is not particularly helps," – said the MP.
Dade also noted that he was summoned to the NAB.
"Actually, it's funny. I understand we probably caught all the corrupt in the country. Found who "sawed" all the factories, who sold all of the ports. It remains only volunteers to start planting and to prove to them that they illegally enriched themselves on what is not known", – he said.
He also assured that he feels guilty, understands the fact that there is no factual material, and ready to appear before any court, Parliament and before the people for every act.
"I am accused of illicit enrichment. I do not understand where it could take. There is no evidence, no factual material. Because acts of misconduct was not. And I am ready to answer for each paragraph of their Declaration, for every step of my life," said Dade.
In his opinion, an important role here could not only play the Prosecutor General's office, as NABU and SAP.
"Mr. Uglava, which executes all the instructions of Saakashvili initiated all this crap… It's political PR. You understand that Saakashvili understands that people stopped believing him, his populism, he had some bright moments, to initiate the filing of any cases against the deputies, then to louder scream that caught the corrupt officials," – suggested the MP.
We will remind, earlier Prosecutor General Yury Lutsenko has published the names of MPs demanded to deprive of mandates. Among them were Gennady Beans, Evgeny Deydey and Andrey Lozovoy. The Verkhovna Rada has prepared a corresponding presentation.
Comments
comments