In London, the photographer left on the street of 15 thousand coins and watched the reaction of people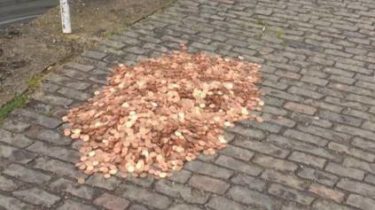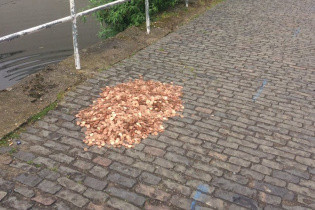 In London, the photographer spent a social experiment, leaving under the open sky thousands of coins with a total value of £ 300, which remained from the art installation.
Have Jamal Macmorran rented an apartment photographer Lana Mesic. Together they decided to record the reaction of people on the thrown coin, reports the Evening Standard.
"In one night for drinks, I jokingly suggested putting them near the river, and she really started to think about it," — said Mcmurran.
The next day the man returned home, Lana was already preparing the experiment. They Packed coin 2 pence and pulled the packs up to the trail near the Regent's Canal in North London at about 9 am.
So my Airbnb guest and I decided to place 15000 2p coins on the canal and record what would happen…. #coinsbythecanal pic.twitter.com/2oe93Bv0Ka
— Jamahl (@JHM_UK) may 17, 2017
Then put a camera in the apartment of Macmurray to capture further developments. Jamal wrote about the experiment on Twitter.
Many pedestrians tried to take as many coins, however, could not carry a heavy load.
Especially the authors of the experiment remember the cyclist who was in a pile of coins, picked a few and threw them over his head.
This guy is awesome…. looking for some magic #coinsbythecanal pic.twitter.com/Dj4Dvojawn
— Jamahl (@JHM_UK) may 17, 2017
But after four hours of shooting, two "robbers" came and took all the coins, causing the experiment ended.
Lana Mesic upset due to the fact that the "attackers" took it all away: "I wanted to find some homeless guy, or that the coins have remained there longer."
We will remind, the British left in the banks more than a billion pounds in the accounts, forgotten. Money can become an easier target for hackers.
Comments
comments