In the US, the pilots of the aviation group "Blue Angels" decorated wedding photo shoot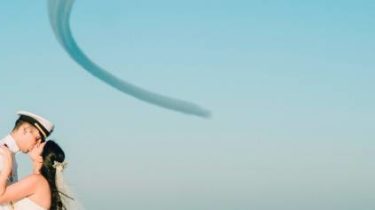 During the wedding photo shoot of a young couple from Florida was flying in the sky the pilots of the aviation group of the US Navy. Reported by ABC.
The photographer managed to capture this moment.
Newlyweds Rachel and Chandler mills posing for a photographer on the beach, do not even suspect that behind them in the blue sky flying a few planes. Until the wedding guests couldn't contain his emotions and cries of joy began to show the young up at the sky.
See also:
Sheldon from "big Bang Theory" and his husband shared a romantic photo from the wedding
The pilots flew several times, which helped the photographer to catch a shot.
The Blue Angels, the U. S. Navy"s flight demonstration squadron, performs a surprise flyover of a wedding ceremony. https://t.co/PZEfTsZSKP pic.twitter.com/vqY3Qv3njB
— ABC News (@ABC) may 19, 2017
Wife of mills knew that the Blue Angels fly every Sunday on a military base, so the chance to see them still was. They also want to personally thank the pilots for their maneuvers in the sky.
Recall that on the day of your sister's wedding, Kate Middleton will rise into the sky fighter. Show aircraft will begin the ceremony.
Comments
comments