Poroshenko said that he discussed with Merkel the pressure on Russia to implement the Minsk agreements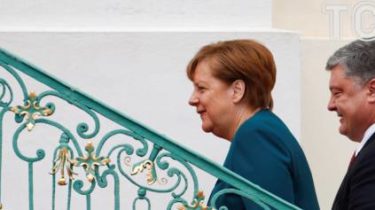 President of Ukraine Petro Poroshenko said that he had discussed with Federal Chancellor of Germany Angela Merkel scenario the pressure on Russia in order to fulfill the Minsk agreement.
About this Poroshenko said on Saturday evening, may 20, in Berlin.
See also:
Visit special trust: Poroshenko and Merkel coordinated position on the situation in the Donbass
"A significant portion of time was devoted to coordination of actions on implementation of the Minsk agreements. Stated that Russia is not fulfilling the Minsk agreements and we need to develop a script that would motivate Russia to sit at the negotiating table and to implement what it promised in the first place, relative to the component security" — said Poroshenko.
According to the President, we must do everything to restore peace on the Ukrainian land, to end the occupation and that Ukraine has the full support of Germany.
"In addition, we have agreed that if the Minsk agreements are not adhered to, then with high probability the EU sanctions will be extended. It is very important that this meeting took place on the eve of the summit "the Big seven", where in Sicily the question of Ukraine will stand high on the agenda and this issue will also be present at the meeting Big twenty", — said Poroshenko.
The two sides also discussed bilateral cooperation with Germany, including assistance to the Donetsk and Lugansk regions.
"Agreement was reached on the financial support of the reforms and stated a significant success of the Ukrainian team and the implementation of reforms," the President said.
We will remind, on may 20, President Petro Poroshenko is in Germany, met with Chancellor Angela Merkel. During a joint briefing politicians Poroshenko said that now people in the occupied territories are forced to live in new conditions for Russia's actions.
Press Secretary of the President of Ukraine Svyatoslav Tsigalko with regards to the meeting said Germany is ready to intensify the work of "Norman format".
Comments
comments