Ukraine has blocked the transit of products in Transnistria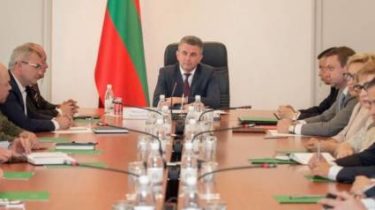 Ukraine banned the transit of food products the so-called "Transnistrian Moldavian Republic" through its territory.
About this at an emergency meeting of the security Council of Transnistria", said the Minister of agriculture and natural resources PMR efimy Koval, informs the press-service of the head of the "Republic".
He explained that the Ministry received a letter from the State service of Ukraine on issues of food safety and consumer protection, in which they were warned about the prohibition of the transit of goods to Transnistria through Ukraine.
See also:
Moldova has officially recognized the Russian troops in Transnistria an illegal contingent
"The authors of the document refer to the chief state inspector of veterinary medicine of Ukraine dated 17 may, which determined that from 20 may pass under the control of goods in transit through the territory of Ukraine, which are sent to Transnistria, will only be implemented subject to agreement with the National Agency for food safety of Moldova. Prior approval of transit through the territory of Ukraine in the Transnistrian issue is invalidated. This information is recommended to inform all the interested operators in the market", – said the press service.
By the way, Smith noted that considering the external food dependency of Transnistria, "Ukraine's decision will have a negative impact on the food supply of the Republic."
He also warned that in case of rejection of the goods at the port, the economic entities of the "Republic" will be forced to keep them in the impound lot and paying demurrage on the territory of Ukraine.
We will remind that earlier in the unrecognized Republic of Transnistria protested over plans of Ukraine and Moldova to establish joint control on the Transnistrian segment of the Moldovan-Ukrainian border. The head of the "MFA of Transnistria" Vitaly Ignatiev said that the process of installation of these posts "behind the Transnistria outside the framework of the negotiation format, without attempting to discuss this issue is unacceptable."
Comments
comments