Visit special trust: Poroshenko and Merkel coordinated position on the situation in the Donbass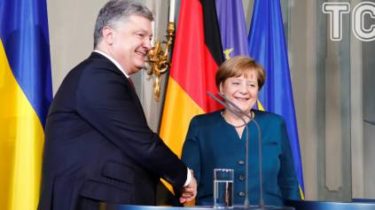 The next meeting of the presidents of Ukraine, Russia, France and Chancellor of Germany in relation to the peaceful settlement of the war in Ukraine were discussed by the leaders of their countries, Petro Poroshenko and Angela Merkel. For the first time the Chancellor took the Ukrainian guest in a country the government of the Palace Meseberg, which is a sign of special trust, says the story TSN.19:30.
Poroshenko's visit to Germany. became already 11-m from the beginning of his term. To meet a guest with Merkel came out on the porch. Two weeks ago, Merkel in Sochi, met with Vladimir Putin, and recently discussed the situation in Ukraine with the newly elected head of France Emmanuel Macron. Then said that "Norman format" will exist in the future, and the meeting of the presidents of Ukraine, Russia and France and Chancellor of Germany could take place in the near future, to somehow move the Minsk process from the dead point. "Our main topic today – how can we improve the security situation. Since safety, and that's what dictates the Minsk agreement is a prerequisite for all other steps. But we'll talk about further steps, and on political issues and on humanitarian problems, because the fate of the people on the ground extremely difficult," explained the Federal Chancellor.
Comments
comments