Gerashchenko told Osadchaya, it changes the diapers of a young daughter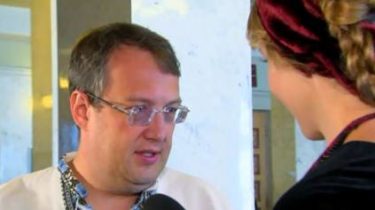 Advisor to the Minister of internal Affairs Anton Gerashchenko takes all parental responsibilities and is able to do for daughter, says "social life".
"Our daughter was born, it's all right, we celebrated on may 15, six months, all right, I can do everything you need: warm milk, cook, change diapers, today, I have twice changed. Happy can wash your bottom under hot water, so it's OK," he boasted.
See also:
Prescription weight loss share. Users surprised new photo MP Gerashchenko
The MP said that the son from his first marriage lives with his ex-wife, and from her second marriage with them.
"Let me say this: I have a son from his first marriage and from his second marriage. My son my wife is now living with us, and a son from his first marriage lives with my first wife," explained Anton.
Older brothers, he said, has welcomed the emergence of a sister.
We will remind, last winter Anton Gerashchenko boasted a noticeable weight loss. A political activist has lost 37 pounds.
Comments
comments