The Ukrainian people are able to live without "controlled by the KGB-FSB of social networks" – Poroshenko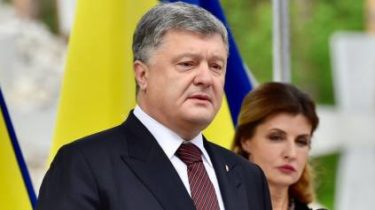 President of Ukraine Petro Poroshenko said that the Ukrainians will be able to live without Russian social networks and resources.
He said this during a speech on the Day of memory of victims of political repression in the National historical memorial reserve "bykivnya graves."
"Without controlled by the KGB-FSB social networking my Ukrainian people, too, can live", – he said, speaking of the identity of the Nazi and Stalinist regimes.
Poroshenko said that the OSCE parliamentary Assembly eight years ago adopted a very important resolution on this one and suggested a joint day of remembrance for victims of Stalinism and Nazism.
"That's why, if someone does not understand, in the last three years in Ukraine, we are the de-communization. And that's why a so-called leninopad, and that's why purified map of Ukraine from the names of its executioners and murderers, and that's why they updated the signs with the street names. Because kausticescimi idols there and no place in our country", – said the Ukrainian President.
We will remind, on may 15 the President of Ukraine Petro Poroshenko signed a decree enacted the decision of the Council of 28 April 2017 "On the use of personal special economic and other restrictive measures (sanctions)" in respect of a number of Russian companies. According to information contained in the Annex to the decision of the Council, it is proposed for a period of three years to block the assets of Russian sites "Vkontakte", "Classmates", "Mail."ru and "Yandex" and to forbid Internet providers to provide access to specified resources.
Comments
comments