In England, the strangers during the day did the wedding person at death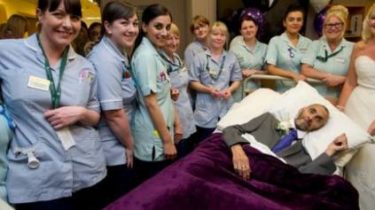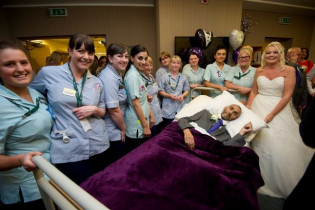 Ray Kershaw 63. He had hoped to marry 45-year-old Tracy Brooks in Tenerife next year, but had to change their plans, when in March he learned about the terrible diagnosis.
The pair had been refused wedding of their dreams after the groom was diagnosed with terminal cancer, reports the Metro.
See also:
Special wedding in Exactly: marriage took orphans with disabilities with cerebral palsy
But thanks to the kindness of strangers, the lovers were able to marry in the Springhill hospice in Rochdale, where he was ray.
Everything was organized for 24 hours with the help of charity Gift of a Wedding.
Originally the organizers had planned the wedding for June 2nd. However, as ray is much worse, so the wedding was moved to Saturday, may 20.
In facebook they posted a request for help.
In a few hours, there were people who offered to pay for the car, flowers, decor, cake, and everything else needed for the wedding.
Pete Spence, for example, lent them a car.
A touching ceremony was held at the hospice, was attended by only close relatives, friends and medical staff.
Melissa king, the maid of honor and her niece, said that the couple was amazed by the generosity of all.
"Ray and Tracy knew that cancer is incurable, so all they wanted was to get married," she said.
Recall that sister Kate Middleton got married. Down the Aisle Pippa was led by the father, but the sister refused to be a bridesmaid, however, adjusted the plume, and all the time was near.
Comments
comments