The save on scenarios. Network laugh with Vilkul, who came to the store for bread and yogurt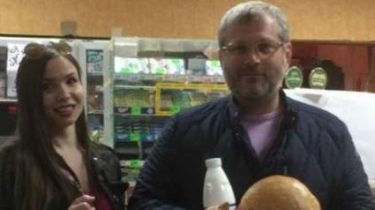 MP from "Opposition bloc" Oleksandr Vilkul announced at his page in Facebook photo, which he holds in his hands a bottle of yogurt, a loaf of bread and cheese.
The MP said that he had gone to a little shop in my hometown, Krivoy Rog, because he tries "not to shop in large networks, because the earnings will go to the yachts and planes of their respective owners".
See also:
Parasyuk with a machine gun searched Vilkul and Teteruk protested rifle: BP brought a weapon
"While the earnings of small businesses will go to pay of groups of children and the life of cities," he wrote.
This photo was not spared in the social networks. Politician Gennady Korban jokingly recommended to buy Vilkul only processed cheese, and glassware from under dairy products – to take over the store.
Other users wgauth that the best backdrop for photos Vilkul will be the premises of the Prosecutor General.
Go. .. pic.twitter.com/foReal1lL4
— אריה ליב קרסנופולסקי (@volontert71) may 21, 2017
@Maped After the sermon on the mount Vilkul fed the people bread, yogurt and 2 cheese
One of Spams (@odinspam) may 21, 2017
Earlier in Dnepropetrovsk eyewitnesses caught Vilkul during a demonstration by laying flowers to the tomb of the Unknown soldier: after multiple takes during filming he took the bouquet and went with him to the journalists.
Comments
comments