The wife of the journalist Sushchenko appealed to the first lady of France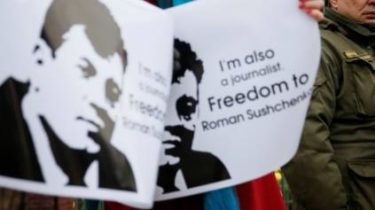 The wife of Ukrainian journalist who was detained in Moscow, Roman Sushchenko appealed to France's first lady Bridget Makron.
It is reported by detainee's lawyer mark Feigin on Twitter.
Wife Sushchenko asks for help in freeing her husband.
Spouse Roman Sushchenko, Ukrainian journalist arrested in Moscow has appealed for help in freeing her husband to Bridget macron.
— Mark Feygin (@FeyginMark) 22 may 2017
See also:
9-year-old son of a Ukrainian political prisoner Sushchenko asked Putin to return to the father
We will remind, on April 26 Lefortovo court of Moscow extended until June 30 the arrest of Ukrainian journalist Roman Sushchenko, which illegally detained in Russia and accused of spying. It is noted that the meeting was held behind closed doors because the case Sushchenko is marked "top secret".
3 Oct 2016 appeared information about the arrest of Roman Sushchenko Lefortovo court for 2 months. Russian security forces claim that Sushchenko "purposefully collected the data making the state secret, on the activities of the Armed forces and National guard, the leak of which abroad could harm the defense of the state". Against the Ukrainian opened a criminal case on charges of espionage.
Comments
comments