Yanukovych and Co. managed to steal from the Ukrainians $ 40 billion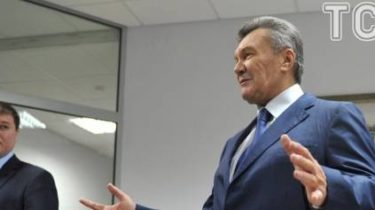 Stripped of the title of perzident Ukraine Viktor Yanukovych together with his henchmen stole from the Ukrainians about $ 40 billion over 3 years.
This was stated by the Minister of justice Pavel Petrenko in conversation with journalists, according to UKRINFORM.
"Unfortunately, the Parliament adopted the law on special confiscation and the need for it is not eliminated. Because in addition to the $ 1.1 billion of assets belonging to Yanukovych, who was arrested in Ukraine, but according to expert estimates, about $ 40 billion was stolen by Yanukovych's regime in 3 years of their so-called government," the Minister said.
He said that the money are under different jurisdictions in different States, they were taken away from Ukraine through a complex scheme.
Meanwhile, the special confiscation mechanism provides the way for the return of these funds.
However, according to Petrenko, "Ukrainian MPs are afraid of this law, as of fire," but the Ministry of justice will continue to insist that this bill was passed.
"If not for this Parliament, another it will take," – said Petrenko.
See also:
Confiscated from the "family" Yanukovych's money came to the state budget
We will remind, on may 3, the Commission for control over files Interpol has stopped the investigation deprived the title of President of Ukraine Viktor Yanukovych and his son Oleksandr.
In addition to Yanukovych, Interpol removed from the investigation of two officials of his regime – the former head of the presidential Administration and former Secretary of the NSDC Andriy Klyuyev and eks-Minister of energy and coal industry Eduard Stavitsky.
Also Interpol refused to declare in search of scandalous people's Deputy Oleksandr Onishchenko, who in Ukraine is accused of causing state losses in the amount of UAH 3 bln. The Ukrainian Bureau of the Interpol has given this information to the NEB.
The GPU was assured that the decision of Interpol will be appealed, and Ukrainian legislation may make a difference. He stressed that the withdrawal from the international search Yanukovych was not due to shortcomings of the investigation or the violations by the investigative authorities.
Comments
comments