In the Donbass at the checkpoints has increased dramatically the flow of people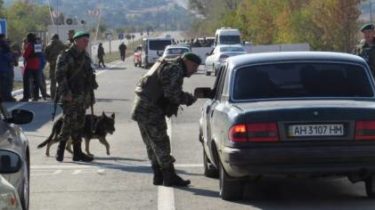 The state border service of Ukraine said that this year the number of people who cross the line of demarcation risen by a quarter, reports "Interfax-Ukraine".
Viktor Nazarenko, head of the border service of Ukraine, reported that the number of control points of entry and exit is insufficient. He stressed that "the intensity of the throughput of operations on the line of differentiation is very high. We are seeing increasing traffic through PPC compared to the previous year by 25%. This figure is quite high. And we launched an initiative which was supported by the headquarters of the ATO to work KPVV extended until 19.30 hours. You understand that night time checkpoints can not work, because the danger of attacks is very high."
See also:
The shelling from "Grad" near Experienced. How was the day in the area ATO
According to him, it now employs 5 KPVV in the six road corridors that people can cross the border demarcation. Also ready to work KPVV sixth "gold", but it does not work because of the position of the Russian-terrorist forces. And although the border guards are doing everything possible within their competence in this case is limited, as it is not a state border and the line of demarcation, where special rules apply.
Nazarenko said that for the current year have already missed the 3.6 million people and more than 0.5 million vehicles. But because of the frequent shelling and blocking of the KPVV illegal armed groups often have a queue. This is a necessary measure, since life can not take that risk. This year the points have already fired 27 times.
Recall that in April, on the border with Russia frontier guards detained the men with the "passport LPR" and the identity of the militants. The men were detained at the checkpoint "goptovka".
Comments
comments