Over 11 million UAH Klitschko plans to turn the water Park to Disneyland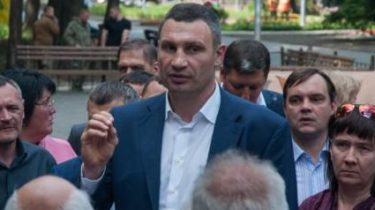 The mayor of Kiev Vitali Klitschko said that before the end of autumn will be presented the project of comprehensive renovation of the entire territory of Hydropark.
This was the mayor noted during the inspection of works on reconstruction of the city Park, reported the press service of the KSCA.
"Gidropark – one of the favorite places of Kyiv residents and guests of the capital, but unfortunately, many recent years, this area has become a place where drink alcoholic beverages, loud music, and where parents are afraid to let their children alone. The Hydropark has more than 20 years have not been updated, and we plan to return to this unique area known as one of the best recreational areas of the capital. These works we have already begun", – said the mayor.
Klitschko also said that the reconstruction of the hydro this year has been allocated 11 million UAH.
"In particular, here repaired Central Avenue and part of the adjacent Park. A special method of laying tiles also allowed extremely fast to put almost 2 thousand square metres of paths. We also installed new lighting, planted trees and shrubs, arranged the new flower beds. Also installed a new irrigation system," – said the mayor.
See also:
Without bars and attractions. Klitschko has announced a large-scale reconstruction of the zoo
According to him, the city has a lot of plans for the renovation of the Hydropark.
"To put in order more than 140 hectares of water Park once we can't. So over the next few years we will work on the renovation of the Park. And by the end of this autumn we are going to present the project in its full updates as well as calculation of necessary amount of money for this work", – said the mayor.
In the end Klitschko said that the city government is negotiating with international companies on investments in construction on the territory of Hydropark entertainment Park similar to Disneyland.
"We are negotiating with companies from Korea, Austria, Germany, the USA, to turn the Kiev Hydropark on a recreational area with an amusement Park level of Disneyland. And interest from investors is," – said Klitschko.
We will remind, the city authorities plan to begin construction of the pedestrian bridge in Kiev, connecting the Arch of Friendship of peoples with the Vladimir hill. Kyiv mayor noted that the city government is developing the tourism potential of Kiev and pays great attention to the development of tourism infrastructure.
Comments
comments