Savchenko requires the President to veto a repeal "her law" on the offset of the sentence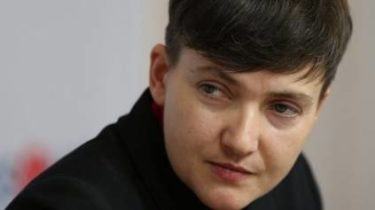 The people's Deputy Nadezhda Savchenko addressed to the President of Ukraine Petro Poroshenko with the requirement to veto the abolition of the "law Savchenko" regarding the rules of addition of punishments and crediting period of the previous findings, citing a violation of the Constitution.
The appropriate appeal to the head of state, she announced on his page in Facebook.
"Voting in the Verkhovna Rada of Ukraine on 18 may 2017 at the actual termination of the formula of admission by the court one day stay in the detention center for two days of imprisonment, which was introduced by Law of Ukraine, where I was one of the authors directly violated article 22 of the Constitution of Ukraine", – she said.
In particular, Savchenko quoted from the article: "When adopting new laws or amending existing laws shall not be diminished content and scope of existing rights and freedoms."
"I draw the attention of the President of Ukraine as guarantor of the Constitution of Ukraine, he should veto against the draft law, which was enacted on 18 may to prevent the violation of the constitutional rights of Ukrainians", – said the MP.
In addition, Savchenko also appealed to the Commissioner for human rights Valeria Lutkovska with the offer "to enjoy the right to constitutional petition of unconstitutionality of Ukraine the draft law of Ukraine which was adopted, as the responsibility of the Ombudsman is to protect human rights."
Recall, the Verkhovna Rada on Thursday, may 18, reviewed the amendments to the "law Savchenko". Held a roll-call vote on the consideration under the abbreviated procedure of the draft Law on amendments to the criminal code of Ukraine (concerning the rules of addition of punishments and enrollment period, the previous conclusion) No. 5534.
For a decision voted by 174 deputies, against – 9, abstentions – 41 not voting – 123. Just in the Parliament was registered by 347 MPs. Nadezhda Savchenko was absent.
Earlier, the lawyer-criminologist Anna Malyar said that the so-called "law Savchenko" was adopted by individuals and especially by "the elite bandits" and VIP criminals. However, she noted that the new document, the legislator recognizes that the conditions of detention of an innocent person is more stringent than those found guilty by the court.
Comments
comments