"The name of the country?" Poroshenko reprimanded the owners of the channels for a low share of the Ukrainian language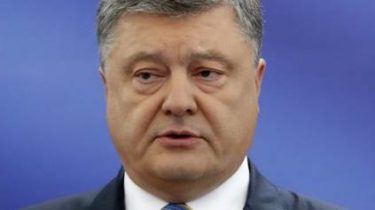 The President of Ukraine Petro Poroshenko commented on the adoption by the Verkhovna Rada of the draft law on increasing the quota of the product in the Ukrainian language on television.
He stressed that he has repeatedly drawn the attention of the owners and managers of channels at an unacceptably low number of Ukrainian language.
See also:
For the law on quotas, hardest of all voted the radicals, and the "opposition bloc" as they could have protested
"Some are at 15%! Gentlemen, the name of the country remember?! Called on the industry to solve this problem in the manner of self – organization have not heard. Well, that settles the law," wrote the guarantor in Facebook.
Poroshenko stressed that the Parliament adopted the draft takes into account the positive experience of quotas on radio and neuroinvasion guarantees the rights of people.
"At the level of regional and local channels in Russian and other languages recorded 40% of the air. Took care of the Crimean Tatar. Consequently, the Ukrainian language on Ukrainian TV! PS: all understood that the law will sign it?". – he concluded.
We will remind, on may 23, the Verkhovna Rada of Ukraine adopted the "Draft Law on amendments to some laws of Ukraine concerning the language of audiovisual (electronic) mass media", which establishes language quotas on TV. According to the law, the proportion of TV programs and films in the Ukrainian language in television and radio broadcasting shall be not less than 75% during the day. For local and regional broadcasters the share of Ukrainian must be at least 50%. News releases are also 75% should go in the Ukrainian language.
Head of the Committee on freedom of speech and information policy Victoria syumar explained that made in Ukraine Russian-language television product will be for one year and four months to count in Ukrainian-language quota for TV channels.
Comments
comments