The war for the legacy: family and charitable Foundation are unable to divide the apartments of the Metropolitan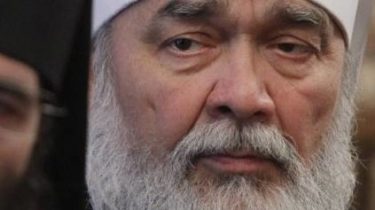 To the editor of the program "Groshi" was a secret list of the real estate of the deceased head of the Ukrainian Autocephalous Orthodox Church – Metropolitan Mefodiy. He passed away two years ago, his venerable title had been held for 15 years.
Natalia Shevchuk – Chairman of the Foundation of Metropolitan Methodius, says he was surprised when he saw in his will only his name: according to him, she is the sole heir.
See also:
Country mansion and luxury cars. Journalists know how to live the chief priest of Kharkov
According to the document, the cleric had a few one-bedroom apartments and a land plot. The assessor of real estate Yury Novosel said that the estimated cost of all properties is around half a million dollars – more than ten million hryvnias are several apartments in Kiev, Ternopil, as well as land and homes. According to Shevchuk, during the life of the Metropolitan she watched his apartments in Ternopil.
In the war for the property entered the brother and sister of the Metropolitan, who believe that their relative was the victim of a scams.
Reporters found that this story really has a lot of strange details. The mysterious will was made in the village of Zhytomyr region, although the property of Metropolitan in Ternopil and Kiev. Despite the rumors, the Metropolitan in this village had never seen, and the Secretary, which was a will refused to communicate with journalists.
At the same time, Shevchuk argues that the original will was stolen.
"At one point I was called and told that the apartment came with private security, accompanied by a sister of Archbishop Methodius" – said the former assistant Metropolitan.
However, in this case it was not the first criminal case. It turns out that early from the safe of the Metropolitan of Ternopil lost securities real estate and cash. According to Natalia, it was done by a sister of the clergyman – Olga Kozelsk, which currently resides in one of the houses brother.
Both sides of this war for the "Holy legacy" of the claim – exhaustive list of the inherited property have not yet seen. If the court decides that the will is present – the notary will reveal the entire list of assets and see him only Natalia. It is possible that the estate of the father will gain even more than half a million dollars.
If the court decides that the will is a forgery – then the investigation will be engaged in law enforcement. And property, by law, will go to immediate family members, i.e. brother and sister.
Comments
comments