"And it gives" the MPs are irritated from the survey on the removal of immunity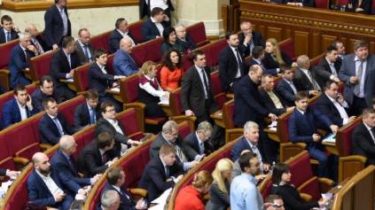 Announced by attorney General representation on the three MPs turned into trouble just for Bobkov, but the attempt to remove the immunity from Lozovoy and Dade postponed. Submission they returned the anti-corruption Bureau, however, nervousness is growing among elected officials, according to a story TSN.19:30.
In setting this theme, the deputies lose the rest and tone of voice. "And what gives – we will begin to live better?", – asks Anton Kisse. He adds that the MPs are the same as all. "No problem," answers to the question about impediments to the removal of immunity Oleg Lyashko. Why is this not being done explain he did not want, and the journalists were called reporters, because they work for the oligarchs. Andrei Lozovoi, on hearing the question, she asked, "don't poke the microphone" and ran away.
A coworker came to meet Igor Mosiychuk. He explained as he but no question of immunity. Surprised that "you let these in here" after Viktor Baloha. But it is assured, that to remove the immunity "do not interfere". This opinion is not shared by Vadim Novinsky – he is convinced that way is the Constitution. Alexander Tretyakov called the idea of removing the immunity populism. "It's a tool protection law", – said Anatoly Matvienko. And Anton Kisse believes that such a topic can only be ordered.
The TSN reporter Daria Happy
Comments
comments