"Evil will be punished", Lutsenko said, when Yanukovych will be judged for murder on Euromaidan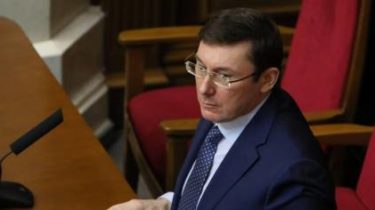 The Prosecutor General's office of Ukraine declared suspicion, Viktor Yanukovych, in respect of the crimes during the Maidan, immediately after the verdict in the case of treason.
This was stated by Prosecutor General Yury Lutsenko today, may 24, the Verkhovna Rada during the report year tenure.
"The case for indictment Yanukovych and Zakharchenko on the organization of the atrocities on the Maidan against peaceful demonstrators will be sent to court immediately after the proceedings of high treason," – said the Prosecutor General.
According to Lutsenko, Yanukovych now protect 50 lawyers with a "very good salary", and in contrast to them are the prosecutors, the same age of our independence with the salary in 20 thousand hryvnias.
"The greatest achievement for the year of tenure as attorney General, I believe the investigation is completed and the start of the trial, who is accused of treason of the Ukrainian people. And this is only the first step. That Viktor Yanukovych was a symbol of evil, and for independence, and for the vast majority of Ukrainians. Now, I as attorney General I will prove it in court. The evil will be punished", – said Lutsenko.
He also added that the decision of Interpol regarding Yanukovych politicized.
Comments
comments