Lutsenko boasted bribes, which refuse to prosecutors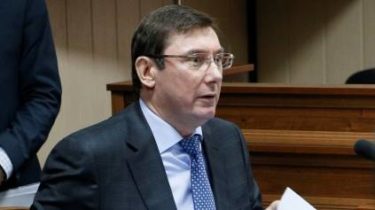 Prosecutor General Yury Lutsenko told about the bribes, which refuse during its work, the prosecutors.
He reported about it during the report in Parliament.
"I want to tell you now about the individual pride of the Prosecutor's office, those who refuse bribes and arrest those who offer a bribe. In particular, the investigator of Prosecutor's office of Kirovograd refused to receive a bribe of 35 thousand dollars. The military Prosecutor of the Lviv garrison – from a bribe in 40 thousand dollars, the military Prosecutor of the southern region – from bribes in 75 thousand dollars, and the investigator of the GPU, which departed from the occupied territory of the Luhansk region, refused a bribe of 200 thousand dollars," he said.
According to him, such data indicates the process onalenna and improvement of the General Prosecutor's office.
See also:
In Sumy detained Nausnice, who demanded 300 thousand dollars of a bribe
We will remind, Lutsenko has signed the suspicion in Sumy region detained for bribe ex-Naushniki. Besides, the head of the GPU said that according to the wiretaps, arrested for extortion of a bribe presented to the current staff of the NABOO, and noted that the evidence of his dismissal is not.
According to Lutsenko, to establish the detainee is an active employee of NABOO, the court can only.
Comments
comments