The powerful militants fired rocket-propelled grenades and machine guns checkpoint "Marinka"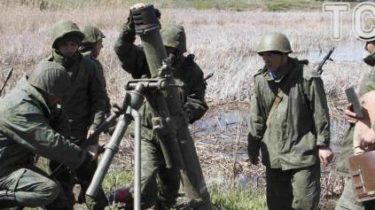 Gunmen opened fire in the direction of the checkpoint "Marinka", which is located on the road corridor across the line of demarcation.
It is reported by the state border service.
The incident occurred at about 11.30 am, the shelling, the separatists carried out from the forest on the outskirts of the settlement Alexandrovka, on the temporarily uncontrolled territory.
According to preliminary information, the Russian mercenaries use rocket-propelled grenades and 82-mm mortars.
To ensure the safety of the citizens of the throughput of the operation was temporarily suspended.
Fortunately, none of the shelling was not injured.
See also:
The shelling of the "Grad" and wounded soldier. A day in the area ATO
We will remind, on Donbass at checkpoints has sharply increased the flow of people. Viktor Nazarenko, Chairman of frontier Department of Ukraine, said that the number of control points of entry and exit is insufficient. He stressed that "the intensity of the throughput of operations on the line of differentiation is very high. We are seeing increasing traffic through PPC than last year by 25%. This figure is quite high. And we launched an initiative which was supported by the headquarters of the ATO to work KPVV extended until 19.30 hours. You understand that night time checkpoints can not work, because the danger of attacks is very high."
Comments
comments