"Take me away". The grim face of the Pope at the meeting with trump became a meme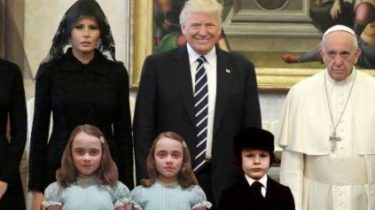 Internet users laugh at the grim face of the Pope during the first joint meeting with the President of the United States Donald trump and his family.
The audience took place yesterday, may 24. Nick first discussed the clothes and the veil of the first lady Melania trump and the President's daughter Ivanka. Subsequently, they reached the Pontiff. Laugh user it kind of depressed for a joint photo.
See also:
Not taking her husband's hand and constantly sad. What's wrong with Melania trump
Users began creating memes with his face and joked that the Pope is mentally asks to save him and take him away from trump. Also it seemed ridiculous video, which the Pontiff refused to shake hands with the leader of the United States.
It is fair to say that during the meeting, the Pope and trump has exchanged a handshake, and a separate photo of the Pontiff smiled.
Fake, konesh, but Choate direct Volosyanka pic.twitter.com/AomAUlCVLH
— Lentic (@oldLentach) may 25, 2017
Trump is wrong the pope is not like him. See the difference between Obama v/s trump visit. #donaltrump #pope pic.twitter.com/DzYpYseMCi
— Harpreet Makkar (@HarpreetMakkarr) may 24, 2017
The look the Pope gave Trump was epic! #TheResistance pic.twitter.com/zLRqJmKcd3
— R. Saddler (@Politics_PR) may 25, 2017
Even the Pope wouldn't want to hold hands with Trump. #JimmyKimmelLive pic.twitter.com/800zsnd7c0
— Raimi (@RaimiBonn) may 25, 2017
@9GAG May the Lord protect the Pope pic.twitter.com/CgFgo5OVSS
— Lea Sheeran Tebow (@leeyaa13) may 25, 2017
*record scratch*

*freeze frame*

POPE: Yep that's me. You're probably wondering how I ended up in this situation. pic.twitter.com/oovyADd8r9
— Donald J. Trump (@reaIDonaldTrunp) may 24, 2017
Pope Francis: "God Dammit" pic.twitter.com/wU3sGhKgZr
— Brandon Calvillo (@BJCalvillo) may 24, 2017
Pope "Get me out of here"

Melainia "me first "

Ivanka "wonder if Mrs. Pope has seen my new summer collection" pic.twitter.com/gcV47uoyf7
— Lynn Rafferty (@LynnsDelighted) may 24, 2017
Pope Francis with world leaders. #Vatican #Trump pic.twitter.com/nKBKv17iHk
— Norbert Elekes (@NorbertElekes) may 24, 2017
Favorite Pope meets Trump meme. pic.twitter.com/b8sB11kuUs
— jamie (@gnuman1979) may 25, 2017
Comments
comments